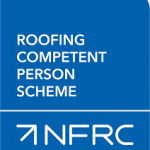 What is the Roofing Competent Person Scheme?
NFRC's (National Federation of Roofing Contractors) UKAS accredited Competent Person Scheme (CPS) is the only dedicated competent person scheme for the roofing sector in England and Wales. The government's CPS framework allows qualified roofing contractors to self-certify that their work complies with Building Regulations.
Do I need a Roofer with Competent Person Status, to replace my roof?
It's not essential that the roofer you choose is Competent Person accredited, however, if 50% or more of your roof needs to be replaced, and they are not a member, you will need to engage a surveyor from the local authority to inspect the work before it can be signed off, and pay for any associated costs involved.
So, why choose Atlas Roofing Construction Ltd for your roofing requirements?
Atlas Roofing Construction Ltd is proud to have been awarded Competent Person Status.
All contractors that are competent Person certified undergo a full and rigorous audit and inspection before joining the scheme and regular inspections are completed throughout the membership.
Each competent Person organisation must work to the current building regulations, and each member is regularly audited against the most up to the date of British standards.
By choosing a Competent Person Scheme member for your Roofing project you will have peace of mind in the knowledge that you are getting a truly professional job by qualified, Insured and experienced operatives, and at the end of the work you will receive a BRCC (Building Regulations Compliance Certificate) together with a 10-Year Workmanship Guarantee and Insurance Backed Policy provided by Quality Assured National Warranties, all at no additional cost!
If you are thinking about undertaking any roofing works, talk to us first and we will be happy to discuss your requirements & offer any advice if needed.
Atlas Roofing Construction Ltd – Accredited to Self-Certify Pitched Roof Replacement Works
Tel: 020 8647 1170
Mob: 07702 326938